Skills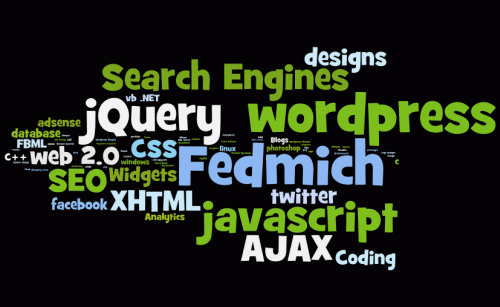 Here are some of the different skillsets that I have.
Technologies/skills
PHP
Javascript

Thank you for showing interest on my works...
If you like my service, you may leave some testimonials via Email / LinkedIn
or become a fan on Facebook
Translate to other language
Quick Contact
Sending Email... Please wait...


Born in Philippines,
currently staying at
Singapore
and is available on multiple timezones,
(US, UK, etc)
Available for freelance/fulltime,
per hour, or per project basis
Testimonials

Great work
. Fedmich is
quick, customer-oriented and professional
. He is also
skilled and reliable
- I look forward to use him for new projects :)

knoybie, Toa Payoh, Singapore

I've had Fedmich develop different Wordpress-based websites for various projects and clients. His work is a
great value
for the cost, and he works
tirelessly
to ensure project success.

David Gartner, San Francisco, United States

Beautiful! Great working with you!

Adriana Hill

When I posted this project, I thought it was just a question of changing file extensions and creating redirects.
I am so glad
that I picked Fedmich for this as it turned out that the site had dangerous insecurities that were inviting trouble in the long term. He introduced me to knew tools and I know so much more than before about ensuring the health of this site.
Fedmich prides himself on quality, not quantity
and communication with him is
the best I have experienced
since using providers on this site.
He goes the extra
mile to ensure his clients are happy. I cannot praise him enough and I am already seeing improvements within days of selecting him. Don't hesitate; he is one of the best Wordpress guru's here. I hope to work with him again.

intermediary, London, United Kingdom

Fed is a talented developer that can also handle out of the box projects like ours. He is definitely recommended.

Dennis & Dyel, Europort Avenue, Gibraltar

Federico is a rare talent in the field of web development. Not only does he have the hard skill of knowledge and expertise in web development. He was able to foresee possible issues down the road and solve issues before they became a problem.

Saravanan Kumar, Balestier Road, Singapore

I love working with Fedmich. He's
diligent
,
knowledgeable
and
extremely versed
in Wordpress. We had
excellent communication
and that's really what make a great team and a
successful project
. I look forward to working with Fedmich in future projects. Thanks so much Fedmich!!

ehmm, New York, United States

Thanks for the help, you are
one of the best
.

SunShadow, Sharjah, United Arab Emirates

Federico is someone who's always up to the task regardless of the gravity handed to him with utmost results. He have good insights both on technical and business part of the project which he's always willing to share with his colleagues. A very smart guy who you'd always want to be part of your team.

Richard Carreon, Makati, Philippines

I can guarantee you that Fedmich is right for your project!
I know a star when I see one!

George S., Los Angeles, United States

Fedmich did an amazing job on our PHP project. I will continue to work with him on many future projects to come. His expertise in Wordpress
really impressed me!

Matt Silverman, Washington, United States

As always thank you for a
great job
.

Gisele, MacDougall Settle, Canada

Federico has far
surpassed my expectations
and even impressed many experienced designers with his knowledge, work & expertise.

Dani Walker

Fabulous, very helpful and responded well to any changes required

Elaine P

It was a pleasure working with fedmich, he is
very professional
and has excellent communication. I'll keep working with him for sure!

markowitzcapital, Pembroke Pines, United States

Working with Fed was one of best decisions I made in my business, his graphics are phenomenal and his work is highly creative.

Lucinda Cross, Bronx, United States

Excellent work
,
on time delivery
. Fedmich knows his WordPress back and forth. i look forward to working with him again.

Ari Salomon, San Francisco, United States

ABSOLUTELY BRILLIANT!
Great communications, very fast, reliable, efficient, he did a fantastic job, better than I expected. I have finally found my freelancer to help with my business.
HIGHLY RECOMMENDED
.

Karen (dragonfly2), Sydney, Australia

I had Federico work on several projects for my company and was always thrilled with his work. He has a
very high work ethic
and
always underpromised and overdelivered
. I would be happy to speak with anyone who is interested in using him as a developer/coder.
Top Qualities:
Great Results
,
Expert
,
High Integrity

Samuel Newman, New York

you are so great!!! You are wonderful

Dani Walker

Federico has a superb understanding of Wordpress, and
has more than met my expectations
with launching a Wordpress site. He is quick, professional, and trustworthy. I will definitely be working with him on more projects in the future.
Service Category:
Graphic/Web Designer
Year first hired: 2008
Top Qualities:
Great Results, Good Value, Creative

Matt Silverman, Washington D.C. Metro Area

WOW WOW WOW... have I ever told you that you ARE
amazing
!!! You never cease to
impress
me! And I absolutely
love
the welcome page on facebook!
Thank you so much. I can't wait until I can hire you full time!!!!

Dani Walker

Fedmich is
great
. He provides
excellent service
,
delivers quickly
and
reliably
, and in addition is always
doing more than required
. When he updated my WordPress blogs he also installed important plugins and checked all settings. He is a
pleasure to work with
and I
recommend him highly
to everybody.

josefrei, Unterhaching, Germany

I've worked with Fedmich on numerous projects and I can't say enough positive things about him. First and foremost, Fedmich is an
outstanding human being
and that gets translated into all of his work. On this particular project we were given a
very short deadline
and there were many times where we'd be up all night and morning working but
Fedmich never complained
, instead he's pulling new ideas and solutions to make things work the way the client wants it to.
He's so dedicated
, resourceful and
extremely honest
. His
knowledge in wordpress
and anything web related issues are profound. I'm so happy to have found a wonderful freelancer who I can work with and trust. I also feel that I've made myself a new friend, especially after this project. Thanks Fedmich!!
You come highly recommended
and I can only wish you the best in life.
Service Category:
Graphic/Web Designer
Year first hired: 2009 (hired more than once)
Top Qualities:
Great Results, Expert, Good Value

Estee Bauernebel, Greater New York City Area

This is my second project with Fedmich. He has now proven himself again to be
efficient
,
responsive
and
easy to work with
.

David Gartner, San Francisco, United States

No other webmaster/coder are as
diligent
as you. Thanks for the help

Joshua Montross, Washington, United States

Fedmich is
excellent
with wordpress applications, knowledgable in CSS, HTML, and javascript, and he is produces much in
little time
. His work is a good value and I will continue to hire him when he is available.
Service Category: IT Consultant
Year first hired: 2008 (hired more than once)
Top Qualities: Great Results, Expert, Good Value

Joshua Montross, Washington D.C. Metro Area, United States

Absolutely brilliant work. Federico completed all of the tasks very professionally and was excellent to work with. Highly recommended!

Rob Cornish, United Kingdom

He knows what's
best and worst
when it comes to coding and design.

Lyneth Pulido, Cavite, Philippines

He done the project with outstanding professionalism and completed in no time at all

Mark Richardson, Newcastle upon Tyne, United Kingdom
My specialties are
web 2.0 (ajax) or desktop apps
PSD to XHTML , Wordpress
, Javascript, jQuery , PHP, Curl
more
© 2013 Super Freelancer, Fedmich ,
Currently @ Singapore, West Area